, Start Time: 17:30 Carinish Village Hall Isle of North Uist HS6 5EJ
Event Type:
Iorram - Documentary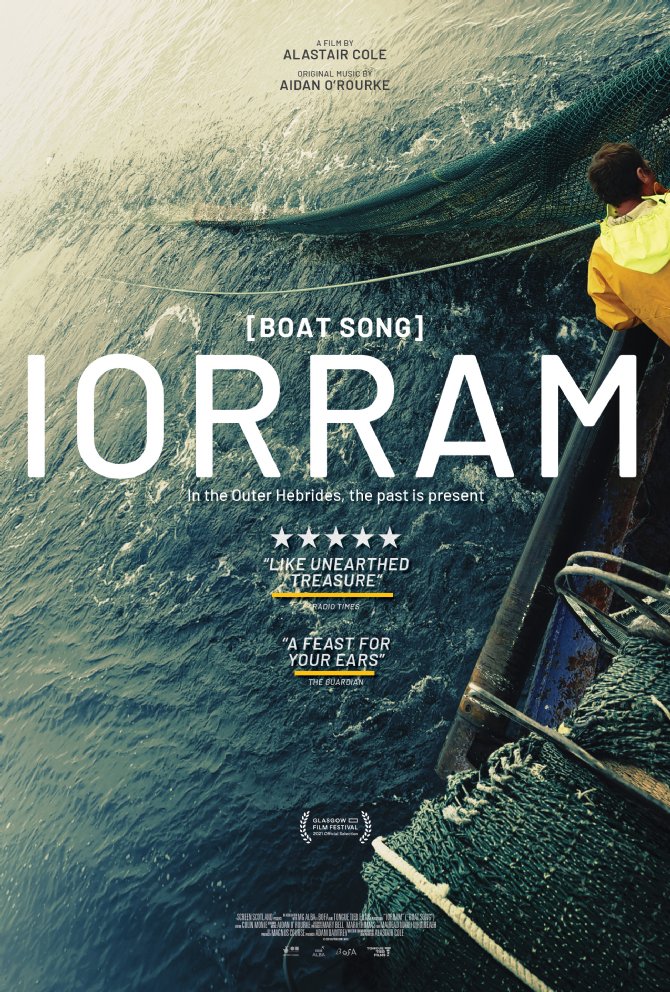 Country of Origin: United Kingdom
Year Released: 2021
Run time: 1hr 38min
Language: Scottish Gaelic (with English subtitles)
Director: Alastair Cole
Classification: PG
---
Description:
Iorram is a lyrical portrait of the Gaelic-speaking fishing community in Scotland's Outer Hebrides, and its intimate relationship with the sea. This first-ever theatrical documentary entirely in Scottish Gaelic blends archive recordings of voices, stories and songs from the past with visuals of island life today and a contemporary folk score, to take the audience on an immersive and moving journey into the heart of an ancient community struggling to preserve its identity in the modern globalized world.
At the heart of the film is an extraordinary trove of sound archive, recorded by pioneering Scottish ethnographers in the mid-20th century, who visited the Outer Hebrides to capture the hardship and romance of life lived in precarious balance with the sea, spoken in a language shaped by the waves. These newly restored recordings preserve an oral history of practical lore and mystical legends passed down through generations of Gaelic speakers, but now on the brink of fading away forever.
Director Alastair Cole places these voices from the past alongside stunning visual imagery of the daily working rhythm of the islands today, on land and on water, shot over three years. The tough realities of fishing and gutting in all weathers and seasons co-exist alongside superstitions and visions of mermaids, faerie folk and mysterious vanishing islands.
A score by award-winning folk musician Aidan O'Rourke weaves together sound and vision in an emotional and cinematic narrative of toil, laughter and loss.
The sea has always sustained this community, while also holding the power to ravage the lives of the families who rely upon it. The film offers whispers and shadows of people and tragic events long since gone, yet whose memory continues to shape life on the islands today. As Scotland and the UK enter a new future, this provides a reminder that the threads of history and identity at this furthest edge of the British Isles are woven, unmistakably, in the lyrical power of the Gaelic language.
---
Screenings:
An Lanntair Arts Centre, Isle of Lewis: Saturday the 24th of July at 5pm.
Taigh Dhonnchaidh, Isle of Lewis: (Outdoor Screen): Tuesday the 20th of July at 2pm.
Grinneabhat Community Room, Isle of Lewis: Friday the 23rd of July at 7pm.
Talla Na Mara, Isle of Harris: Tuesday the 20th of July at 1pm.
Carinish Village Hall, North Uist: Saturday the 24th of July at 5:30pm.
Castlebay Community Hall, Barra: Saturday the 24th of July at 11am.