ABOUT US
Rural Nations is a community interest company based in Stornoway and working with National and international partners. The Company currently operates on a home working basis with pop up offices and cinemas spaces created on the Islands for specific projects when required.

We work on a project to project commission basis and have a cost effective interactive administration with partners working via skype, zoom and other social networks. Carbon monitoring of all travel, filming and touring of work is important to us. The company have a commitment to offering volunteering opportunities alongside our creative processes and events, plus training opportunities and employment for local creative makers.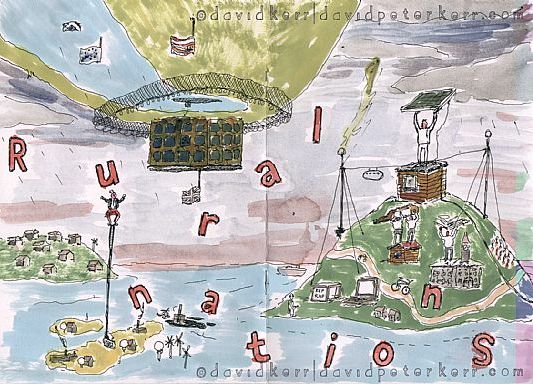 The Board of Directors
---
Muriel Ann Macleod - Creative Director & Board Member
Muriel Ann Macleod has been commissioning, producing and directing bi-lingual and Gaelic language theatre and film from the Highlands and Islands for the last 20 years. Notable projects include, Portrona a community play for Stornoway, An Clo Mor by Henry Adam, Callanish Stoned by Kevin MacNeil, The Sked Crew by Iain Stephen, Na Daoine with John Wright, Lostbost for MG Alba and more recently delivered the hebridean suffrage show Deeds not Words and the film & performance project Eve Vs Lucy.
Her work has a strong comedy base and visual imagery and film are also important elements in her theatre work. For over eight years Muriel Ann worked as the part time Projects Development Co-ordinator for The Highlands and Islands Theatre Network where she developed the Drama Na h 'Alba Theatre Festival for Inverness in 2007/8, Northern Connections (skills exchange project with artists in Northern Sweden) and also the highly successful consortium partner project the Northern Scottish Touring Fund (NSTF) 2011/2013. The ongoing building of collaboration with artsits in Sweden led to Rural Natiosn participating the The Creative Europe Funded partnership project Reclaim the Future Nomadic Carnival for Change project with Teatermaskinen in rural Sweden 2017/2018.
Muriel Ann is also an experienced TV puppet designer and maker specialising in large scale creature builds.
From September 2019 she has been based in Paisley where she is the Place Partnership Producer for OneRen. Muriel Ann also currently programmes and makes the funding bids for the annual Hebrides International Film Festival.

---
Margaret Smith: Board Member
Maggie is a freelance community arts worker working with a remit to co-ordinate small scale arts, theatre and film events in community spaces in the Western Isles. Maggie supports locally based writers and performers to bring Gaelic and English plays to over 60's groups on the Islands. She co-ordinates craft workshops in rural communities, music and new song events as part of the group Cabraich. www.cabraich.org. Maggie also develops recordings of oral history and traditions, in danger of being lost and presenting the information in radio shows and exhibitions. Maggie is also a Gaelic language consultant and translator.
David Walker: Actor and Board Member
---

Associate Producers:
Ruaraidh Urpeth - HIFF Event Producer
Janet Marshall - HIFF and environment projects
---
Associated Artists:
Victoria Banks - Commissioned writer of Deeds Not Words
Ruaraidh Urpeth - Filmmaker and HIFF Producer
Peter Urpeth - HIFF Marketing and social media interviews
Alex Patience - Storyteller and Collaborator on Wild
Tom Hogben - Cameraman & Editor on the Eve Vs Lucy Project
Beatrix Wood - Camera and Editing for Freumhan
---

Contact Us:
Rural Nations (Scotland) CIC
Registered Office: 5 Churchill Dr,
Stornoway, Isle of Lewis, Scotland, HS1 2NP

Email: [email protected]
Mob: +44(0)7789 117740
Facebook: www.facebook.com/RuralNations